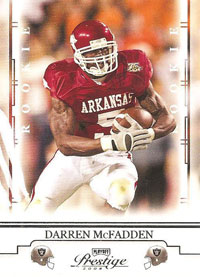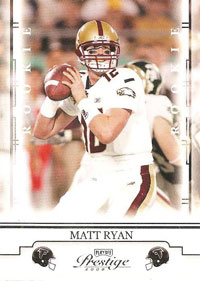 Playoff Prestige will be the first NFL trading card release of the year for Donruss and it hits streets today. Prestige is one of the most anticipated releases of the year, celebrating its longevity in '08 with its 10th anniversary. Shipping two weeks after the NFL Draft, the Rookie Cards contain updated team and draft information.
Hobby boxes will feature either FOUR game-used or autograph cards - guaranteeing ONE autograph and ONE authentic game-used collegiate jersey card.
"Player's Inc did a tremendous job again this year getting all the key rookies to sign their GLA's (Group Licensing Agreements) allowing us to go deep on the checklist and get all the key guys," said Brand Manger Ben Ecklar. "For the third year in a row, we were able to reach 100 rookie cards and get live autographs of the top names in the program."
Ecklar is referring to the fact that Playoff Prestige will go live with NO redemption cards.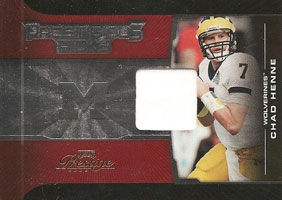 One aspect that will set this launch apart from any to date is the Prestigious Picks game-used jersey insert. Donruss has assembled the largest group of collegiate game-worn jerseys the industry has ever seen, including key picks such as Darren McFadden, Matt Ryan, Brian Brohm, Chad Henne, Chris Long and Felix Jones.
"To obtain collegiate game worn jerseys is a very difficult task, but to get over 50 is a massive undertaking that took us months to achieve," said Acquisitions Manager Joe White. "We feel that this is going to add a tremendous amount of value to the program and give something special for collectors to chase."
Over the years, Donruss has acquired collegiate game worn jerseys from some of the top NFL players of all-time. This year though, they took it to a new level.
"We have a good representation from all the major schools and adding these to names such has Elway, Marino, Sanders, Vince Young and Peyton Manning (jerseys that Donruss has acquired in the past) will allow us to produce some creative inserts and combos later in the year," adds White.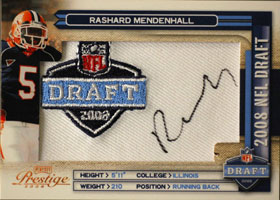 Also featured in the program will be Draft Day Signatures, hard autograph cards that feature embroidered patches of the actual 2008 NFL Draft logo signed by the top picks.
Rookie Cards will fall one per pack, with eleven of the rookie cards again being short-printed.